Couples Massage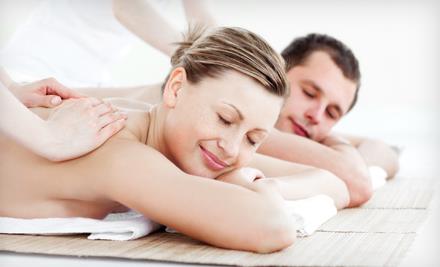 Couples Massages: Couples massage is one of the most popular services at Body for Life Massage Therapies right now. Two people are massaged in the same room, at the same time, by two different therapists. It can be a husband and wife, girlfriend and boyfriend, same-sex partners, moms and daughters, or often best friends. 
Couples massage is a great way to introduce a partner who has never gotten a massage before in a way that makes them feel more comfortable the first time. Some men are apprehensive about getting a massage, and to have their wife or girlfriend there is reassuring. Men usually discover that therapeutic touch is very relaxing and restorative. Once they experience a couples massage, they are more willing to book a massage on their own.
It can also be a good bonding time with someone you don't get to see often enough -- a sister, girlfriend, mom or best friends. The two of you can catch up with each other's lives, gossip or even have a heart-to-heart talk. You may also choose to spend the treatment in silence if you really want to take advantage of the soothing relief that a massage can bring you.
The types of massages given during a couples massage can vary - even if one prefers a lighter touch and the other prefers a deep tissue or hot stone massage. Whatever your preference be assured we strive to provide you with a treatment designed to meet your needs. Couples massages make great gifts for friends, holidays and special occasions! 
Please call us (719-494-4276) to book your couples massage; they cannot be scheduled with our on-line program at this time.  Currently our Couples Massages are booked out a month in advance. 
There is a $50 deposit required when you schedule a couples massage.  It is refundable only if you cancel your appointment 24 hours or more in advance.  Please see our cancellation policy on our FAQ page. 
60 minute couples massage - $140
90 minute couples massage - $190
Deluxe Couples Massage: Two of our Signature massages in the same room with your loved one.  Our therapists will tailor your massages to fit your needs whether you need specific work, need to relax, or want a combination of both.  This treatment includes aromatherapy, hot towels, peppermint foot scrubs, chocolate truffles and sparkling cider!
60 minutes $215
90 minutes $255
Please call us at 719-494-4276 to schedule your time now; these appointments cannot be booked online at this time.